Premium store holds itself to a higher standard.
Not winning the Mercedes-Benz Star Dealer award is simply not an option for Mercedes-Benz Oakville.
The store has won this prestigious award 11 years in a row – from 2011 to 2023. It's a recognition of a Mercedes-Benz dealership's performance in providing world-class achievement in new and pre-owned sales, service and parts, as well as outstanding customer satisfaction achievement.
"This dealership has given their customers the premium service that they expect," explains Alex Afshar, Vice President, Operations at Auto World Imports Network (AWIN), which owns the Oakville Mercedes-Benz store. "It speaks to the culture that is instilled at the Oakville location. The staff work hard for it every day of the year. They're not waiting to win awards, they're expecting to win awards."
It's a unique operation, offering Mercedes-Benz new and used vehicles for sale, as well as a van centre, and a fully certified body shop. "We don't have that set-up anywhere else," notes Afshar. However, AWIN is making investments in building similar stores for other locations.
Prime location
Currently, the Oakville location delivers 1,000 new vehicles, 400 used vehicles and about 400 vans.
"Oakville is a prime location for luxury brands," says Afshar. With its unique combination of high household income and a culture of luxury, it's a perfect spot for Mercedes.
AWIN purchased the Oakville facility in 2004, two years after its inception. They've made quite a few changes over the years since growth is constant in the dealership world. "We expanded the service department with the number of bays, as well as updating the technology," describes Afshar. A delivery bay was set up to enhance the customer delivery experience, as they come in to pick up their new vehicles. A space was expanded upstairs, to accommodate accounting and support staff.
A well-appointed customer lounge on the lower level has a separate entrance so that service customers have a more direct and easy route to their destination. The building next door was recently purchased to provide more parking space. "It's quite seamless for the customer, the moment they get to the property until they get to the department they need," reports Afshar. "It's very spacious and inviting."
Currently, the retail space is 45,000 square feet, with 25 bays in the service centre. The van sales and service centre is a separate entity located nearby, also measuring 45,000 square feet.
Electrification
At AWIN, the customer experience gets tested on a first-hand basis. Someone will visit the store, either for sales or service, and report back on their experience, from the moment they walk in. "From a customer's point of view, from that set of eyes, we'll know whether there's enough signage, a clear path, and so on," says Afshar. "It gives us an opportunity to build on that perspective." And there are spot checks to follow up. "I'll even do this myself, just to see how easy it is for me to park my car and go in," he volunteers.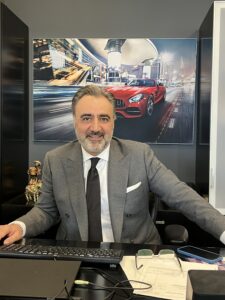 The next big changes will be in electrification. Already, the Mercedes-Benz EQS sedan is sold out, and the newly arrived smaller sedan EQE is proving to be very popular. A priority is making clients and staff more comfortable with electric vehicles. "We're doing daily campaigns, clinics for customers to visit the store and experience electric vehicles," notes Afshar. Fast chargers will be installed, and a separate space will be allocated to electric vehicles. Of course, staff in sales and service are undergoing extensive training. 
As far as shortages go, Afshar sees these challenges as part of the business. "The shortage is not changing our behaviour as we try to look after the customer," he notes. In fact, there are times when there's a shortage of inventory, and times when there's too much inventory.
A fine line
"It's part of what we do," Afshar asserts. "Educating and communicating with customers is key, to getting customers to understand why the delays are happening, and how we are taking care of them." He admits there is a fine line to walk. Staying in constant contact with customers is one thing, but it's not about communicating problems.  "Our role is to keep them informed," he explains. "We handle the problem. The last three years have shown that staying close to the customer is that much more important. And customers appreciate that, too."
In the future, AWIN will be making more investments in their Mercedes-Benz Oakville location. "This store is fantastic, the culture there is one that we aspire to have in all our other stores," enthuses Afshar. There will be additions to service, as well as for electric vehicles and the AMG division in particular. 
"Globally, Mercedes-Benz has one of the strongest brand loyalty standings, we are blessed with working with this brand," states Afshar. "It's easy to build on."
Source: Krystyna Lagowski @ Autosphere.ca – Mercedes-Benz Oakville: Prime Location Delivers Award Winning Service